---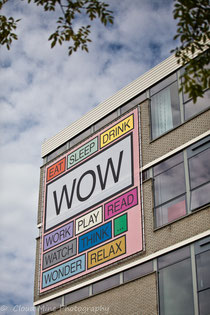 WOW Amsterdam is a new cultural complex combined with an hostel, providing temporary housing for graduates creative talents of Amsterdam's art institutions such as the Rietveld Academy, the Sandberg Institute, the National Academy of Fine Arts, the University of Amsterdam.
This complex has been installed in a former school,  the HTS building  located in the west district of Amsterdam, in the Kolenkitbuurt on Wiltzanglaan 60.
With its hostel, this former school building is also a great place for visitors and travelers who are looking for a good value accommodation and who want to discover the culture in Amsterdam.
With a restaurant, an art gallery, several workshops and a vegetable garden, this effervescent complex offers programming, exposure and encounter opportunities to the residents, the visitors and the neighborhood.
WOW Amsterdam opened its doors on the 21th June 2014 in a festival atmosphere with creative workshops, exhibitions, tours, music and film screening.